PALFINGER: The World Market Leader is Expanding in the USA
08.03.2023
PALFINGER, the world market leader for innovative crane and lifting solutions, is on course full power ahead for the growth market in North America. To support the modernization of infrastructure in the region with innovative products and future-driven solutions, PALFINGER is an exhibitor at this year's CONEXPO-CON/AGG in Las Vegas. In the first half of 2023, the international technology company will open its new regional headquarters as an important step towards a common strategic goal: clear market leadership in the lifting industry.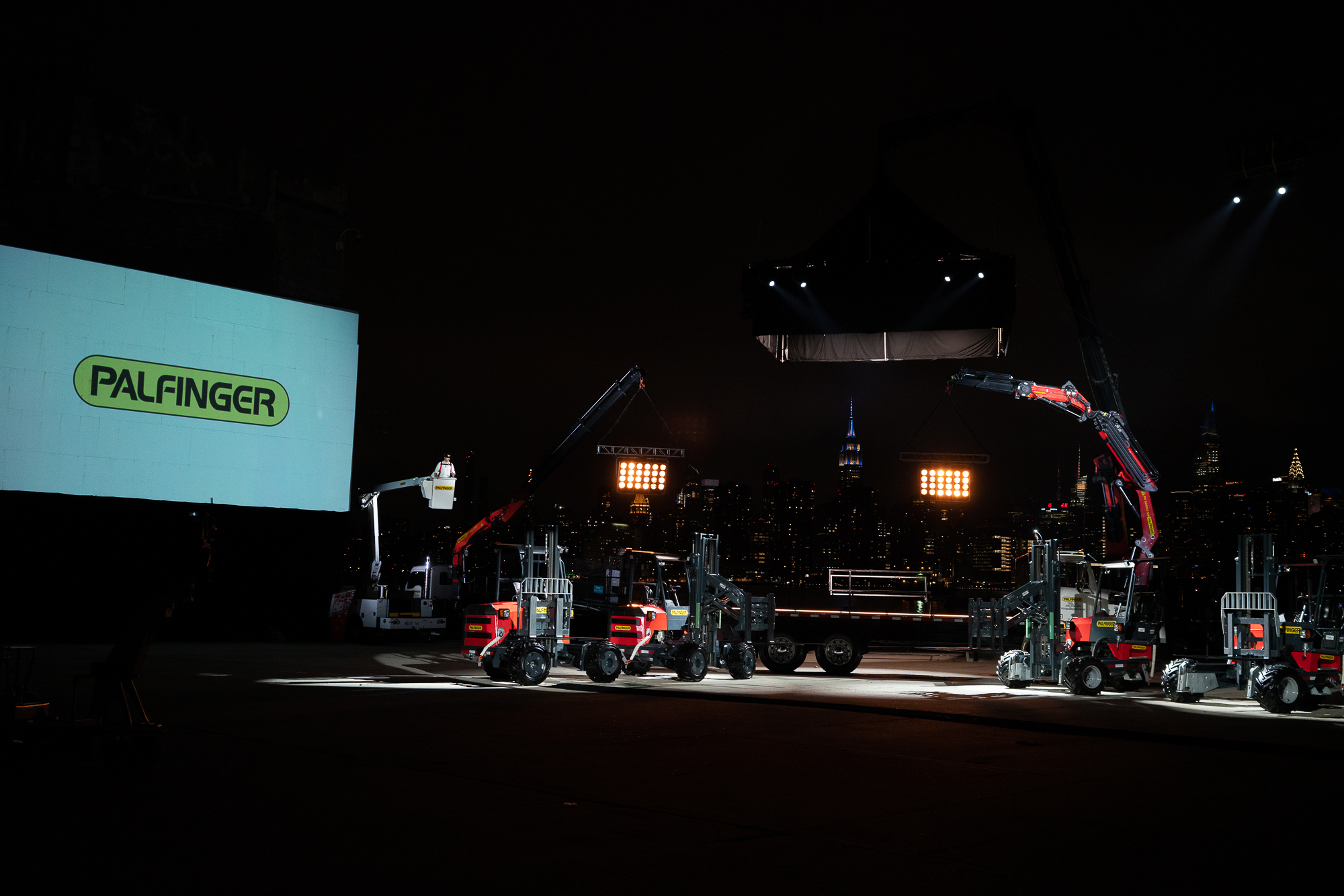 A road network of over 4.09 million miles, 60.5 million households with a fiber optic internet connection and a railroad network spanning over 180,198 miles: The infrastructure in the USA is the backbone to the strongest economy in the world. Following extensive investments, it is being made fit for the future. This is what the "American Jobs Plan" enacted by the US government promises, with a total investment volume of more than 550 billion dollars over the next five years. What is needed are intelligent solutions. These are delivered by PALFINGER, the world's leading provider of innovative crane and lifting solutions. At North America's largest construction trade show, CONEXPO-CON/AGG in Las Vegas (March 14-18), PALFINGER is presenting innovations ranging from the latest generation of truck-mounted forklifts (TMF) to bucket trucks, digital solutions and many more.
Customer focus with European technology and America at heart
With the aim of becoming the leading provider of innovative, integrated lifting solutions for its North American customers, PALFINGER is fundamentally renewing its American footprint. The company's presence in North America is already impressive: With a sales & service network of more than 1,000 partners, a mobile fleet of over 100 service vehicles, 4 manufacturing sites and 13 locations that offer custom-built solutions, PALFINGER guarantees its customers the best support close at hand in the region. As a one-stop shop with hardware and software from a single source and a digital customer journey, PALFINGER offers maximum customer focus. For more than 90 years, customers and partners have appreciated PALFINGER's quality and innovative spirit.
To further expand its North American footprint, the international technology and engineering company will open its regional headquarters in Schaumburg, Illinois in the second quarter of 2023. PALFINGER is creating additional jobs at the new location with an integrated demonstration and training center. The rebuilt management team around Ismael Daneluz, Vice President of Sales & Service Region North and Latin America, has been strengthened by five more managers in the areas of Operations, HR, Procurement, Finance, Research and Development and will guide and drive the organization forward. Thanks to its clear course of growth and investments, PALFINGER will advertise many more attractive positions for specialists and management in the coming years.
"We are here to stay. We are making this clear with the opening of our new headquarters in 2023. Supported by our absolute focus on our customers, we will use the next five years to significantly grow our market share in all product segments. At CONEXPO-CON/AGG, we are showing what we can do," says Ismael Daneluz, who is looking forward to the trade show.
Smart solutions for North America's future
With its Vision & Strategy 2030 and based on the two pillars "Go for Solutions" and "Go Digital", PALFINGER is developing into a provider of integrated complete solutions. PALFINGER combines physical and digital applications to offer its customers hardware and software from a single source as well as highly connected, individually configured products. In doing so, the company is creating an offering geared towards the North American market that significantly increases functionality and added value.
In 2022, the new generation of FHS truck-mounted forklifts was launched. It is purpose-built to handle the specific applications and needs of the North American market and includes a full range of forklifts in various configurations that redefine safety and convenience as well as performance and reliability.
To strengthen and expand the aerial work platform product line globally, PALFINGER is also investing in these solutions that are specifically designed for the needs of the customers in this region. Over the long term, this will make PALFINGER a world's leading solution provider for access platforms and bucket trucks.
Innovations that deliver eco-efficiency and autonomous solutions will have a lasting impact on the industry. The range of products and solutions includes knuckle boom cranes, bucket trucks, liftgates, timber cranes, hooklifts, cable hoists, service cranes and many more.
CONEXPO: A first taste of what is to come
At CONEXPO-CON/AGG, PALFINGER is presenting its solutions at booth F-9471 with daily product demonstrations and a meet & greet with Gold Rush star Juan Ibarra from Discovery Channel, who will be exhibiting his new Mack truck equipped with PAL Pro 86 and service crane.
A highlight at CONEXPO-CON/AGG is the newly launched FHS series of PALFINGER Truck-Mounted Forklifts (TMF). The PALFINGER Global & Regional teams developed them with the needs of customers and partners in mind. New functions, innovations and patents are causing a revolution in truck-mounted forklifts. From safety and ease of use to performance and reliability, the FHS series redefines standards from the ground up. The FHS series forklifts in the 5,500-pound capacity class are available in four configurations: STANDARD, STANDARD REACH, 4-WAY and 4-WAY REACH, with ten- or twelve-foot masts.
PALFINGER will be also presenting some of the most durable knuckle boom cranes in the industry. With a comprehensive range of models that covers the entire spectrum of working capacities, customers will find the right cranes for every application. PALFINGER cranes are fast, efficient, precise, lightweight and are equipped with market-leading safety systems as well as automotive quality paintwork, superior hydraulics and a range of other PALFINGER extras. New TEC series cranes are in development and will be introduced to the market soon.
At CONEXPO-CON/AGG, PALFINGER is also presenting some of their bucket truck models including their eDrive solution, an innovative technology to operate the truck economically, energy-efficient, and emission-free.
The PAL Pro Mechanics Trucks on display are true crane bodies designed for professional field mechanics. They are able to handle the forces exerted by a PALFINGER service crane and serve as an efficient mobile workshop for servicing heavy equipment. Combined with a PALFINGER service crane and compressor, PAL Pro Mechanics Trucks are a powerful addition to any fleet, large or small.
Equipped with these innovations, the modernization of North America's infrastructure can begin. Find out more about the PALFINGER products at CONEXPO-CON/AGG.
Making North America's infrastructure fit for the future together
PALFINGER strives to deliver the most innovative and efficient solutions to the North American construction market. To achieve this, at CONEXPO-CON/AGG 2023, the technology company will be focusing on the crucial communication with its customers, partners and dealers. That is because the know-how and experience of customers make a significant contribution to ensuring that the solutions can be tailored exactly to market requirements. True to PALFINGER's tagline: "Together we can reach anything."
ABOUT THE PALFINGER NORTH AMERICA REGION
In North America since 1989, our established product portfolio qualifies PALFINGER as a complete truck-equipment solution provider. Industry sectors rely on PALFINGER-built knuckle boom cranes, bucket trucks/aerial lifts, liftgates, truck-mounted forklifts, EPSILON timber & refuse loaders, service truck solutions and container handling solutions.
The main guiding principle of PALFINGER is to make our customers more successful with the help of our advanced machines, market experience, technical skills, committed employees and our passion for innovation. Always close to the customer, more than 800 sales and service partners are conveniently located across North America to provide PALFINGER users with the support and dedication that they deserve.
For further information, please contact:
Kristi Kraneyk
Marketing Director
PALFINGER North America Region
M +905 374 3363 | k.kraneyk@palfinger.com