PALFINGER: Strategic Partnership with Steyr Automotive Secures Growth Targets
18.09.2023
To meet the high demand for PALFINGER truck-mounted forklifts in North America, Steyr Automotive is handling the assembly work. This partnership secures production for the growing North American market.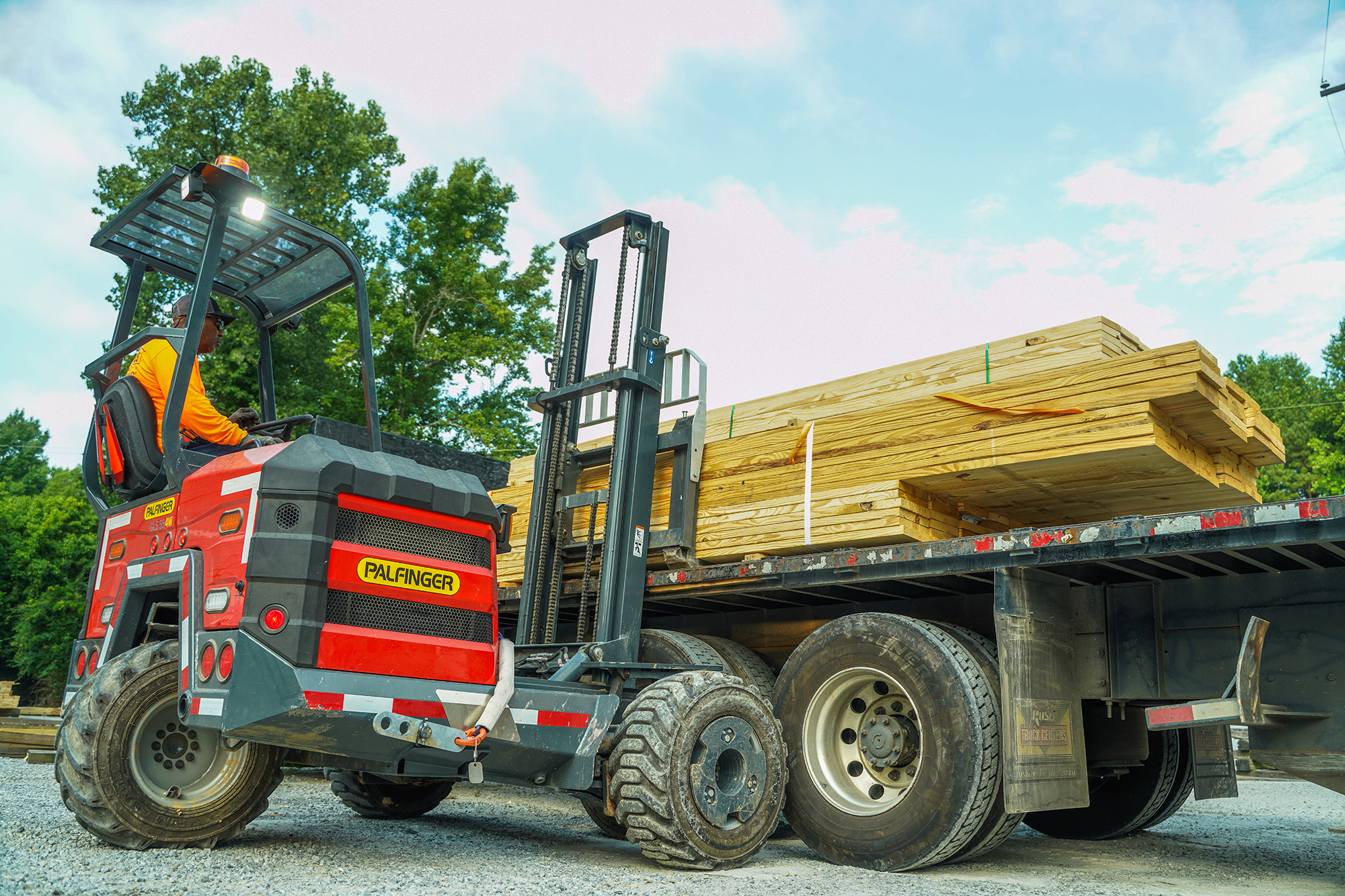 Starting September 2023, Steyr Automotive will assemble PALFINGER truck-mounted forklifts (TMF) exclusively for the North American market. And with good reason, because North America is PALFINGER's strongest growth market. In 2022 alone, the region contributed 23 percent of the record revenue of EUR 2.2 billion. This result confirms the company's focus on the USA, Canada, and Mexico. This is further strengthened by PALFINGER's new regional headquarters including a demonstration and training center which opened in the first half of 2023 in Schaumburg, IL. The technology company is therefore expanding its existing presence with its production plants and large network of service partners in the long term. "The North American economy is recovering quickly," reports Andreas Klauser, CEO PALFINGER AG. A sign of this success is the incredible customer demand for the newly launched range of truck-mounted forklifts. The cooperation with Steyr Automotive ensures steady supplies to North America: "This strategic partnership is a milestone in our over 90-year company history," says Andreas Klauser. "It complements our production network, meets our high standards of quality and technological know-how, and it strengthens Austria as an industrial location."
PRODUCTION CAPACITIES AT THE LIMIT
Mounted at the rear of a truck, PALFINGER truck-mounted forklifts are characterized by their extremely easy transport and independent unloading. They deliver top performance in the areas of safety, unsurpassed operator comfort, durability, ease of use, and maneuverability. Truck-mounted forklifts are in high demand both in Europe and in the North American growth market. In the USA, Canada and Mexico alone, PALFINGER will be able to supply around 1,700+ truck-mounted forklifts per year by 2027. The FHS series was developed specifically for the North American market and features new functions, innovations, and patents. It is not only causing a revolution in the area of truck-mounted forklifts, but is also generating a strong demand. However, this means that existing production capacities are reaching their limits. In order to be able to meet demand on time and without affecting other product lines, PALFINGER has contacted a number of potential manufacturing partners. Steyr Automotive (Austria) were impressive in terms of quality, know-how, costs, short start-up time and the opportunity to further increase the number of units produced annually.
"We are incredibly excited about the strategic partnership with Steyr Automotive. This will increase our production capacity and help us meet the growing demand for our new FHS Series of truck-mounted forklifts. We're committed to maintaining the high performance our customers count on," shares Ismael Daneluz, PALFINGER Vice President of Sales & Service North and Latin America.
PARTNERSHIP WITH FUTURE POTENTIAL
"This partnership is not only a further step in the utilization of our plant for around 60 jobs, it also has the potential to be further strengthened and expanded," says Johann Ecker, spokesperson for the management of Steyr Automotive. "We are very much looking forward to working together." Starting September 2023, Steyr Automotive will assemble all TMFs for the American market and relieve the load on PALFINGER's assembly site in Köstendorf (Austria). The advantage of the American series is that it can be quickly established in the environment offered by Steyr Automotive to ensure PALFINGER premium quality.
SUSTAINABLE GROWTH PATH
The decisive factor for choosing Steyr Automotive as a manufacturing partner is that the employees at the site have knowledge and skills built up over decades in technology, industrial assembly, and cooperation. These criteria mean that Steyr Automotive ideally meets the requirements of the GPO (GLOBAL PALFINGER ORGANIZATION). PALFINGER benefits from this cooperation in the area of self-propelled machines due to additional know-how from Steyr Automotive and ensures its sustainable and successful growth as a leading provider of innovative crane and lifting solutions.
Explore More
ABOUT THE PALFINGER NORTH AMERICA REGION
In North America since 1989, our established product portfolio qualifies PALFINGER as a complete truck-equipment solution provider. Industry sectors rely on PALFINGER-built knuckle boom cranes, bucket trucks/aerial lifts, liftgates, truck-mounted forklifts, EPSILON timber & refuse loaders, service truck solutions and container handling solutions.
The main guiding principle of PALFINGER is to make our customers more successful with the help of our advanced machines, market experience, technical skills, committed employees and our passion for innovation. Always close to the customer, more than 800 sales and service partners are conveniently located across North America to provide PALFINGER users with the support and dedication that they deserve.
For further information, please contact:
Kristi Kraneyk
Marketing Director
PALFINGER North America Region
M +905 374 3363 | k.kraneyk@palfinger.com