Reach Together Series
Forever Clean: A Quality One-Stop-Shop Who's There When You Need Them
01.06.2023
Hooklifts are essential for Forever Clean, the premier solutions for all of your septic, drain cleaning, dumpster rental, and porta potty rental needs. They know they can rely on PALFINGER hooklifts to keep their deliveries on time, lessen downtime, and get access to parts when needed. Together we help them #reachanything.
Lighter With More Payload
Low Maintenance
Strong Service Partner
Forever Clean Snapshot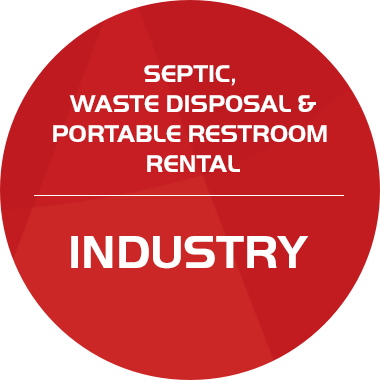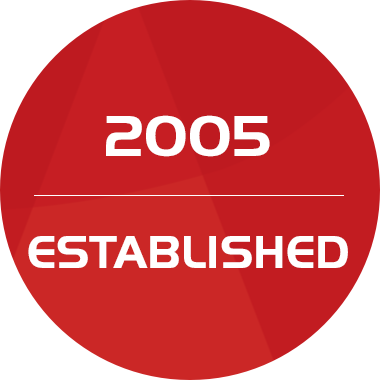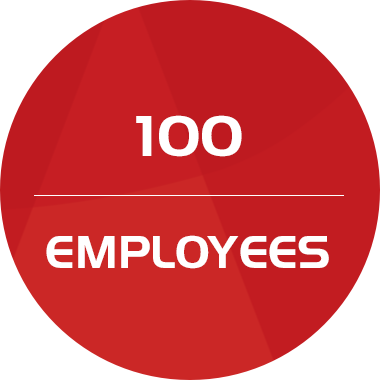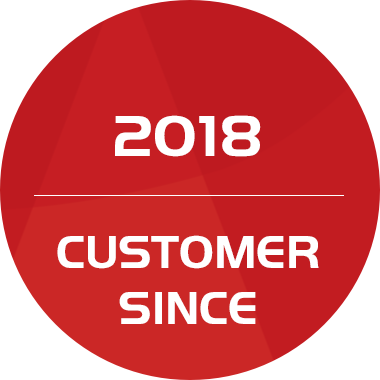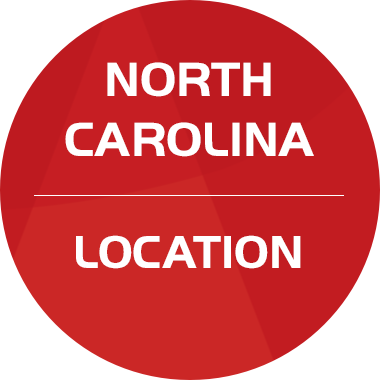 Their Story
In 2005 it all started with a need. Scott and Nick Tart saw a gap in the market for a quality portable restroom option, and shortly after, they saw the need for a bundled one-stop shop for their customers, so Forever Clean was born. "I started Forever Clean with my son, Nick, and I quickly learned that he is the best business partner a father could ever ask for. Nick was only 16 when I first enlisted him to help me deliver, pick up, and service the 28 units we launched within 2005. As any parent of teenagers knows, sixteen-year-olds often have other things on their minds than helping their dad after school. But Nick stuck with me, and for the next few years, I was proud to watch him dedicate himself to the family business and grow into an intelligent and hardworking young man," Scott said. They now offer portable restrooms, waste disposal and septic services. There has long been a stigma surrounding portable restrooms, and Forever Clean was well aware and wanted to change the view and culture of the product. They provide their customers with spotless and well-maintained portable restrooms, raising the industry's standard. They understand the importance of a diverse portfolio, and based on the needs of local businesses and neighbors; they are constantly striving to innovate to solve the community's problems.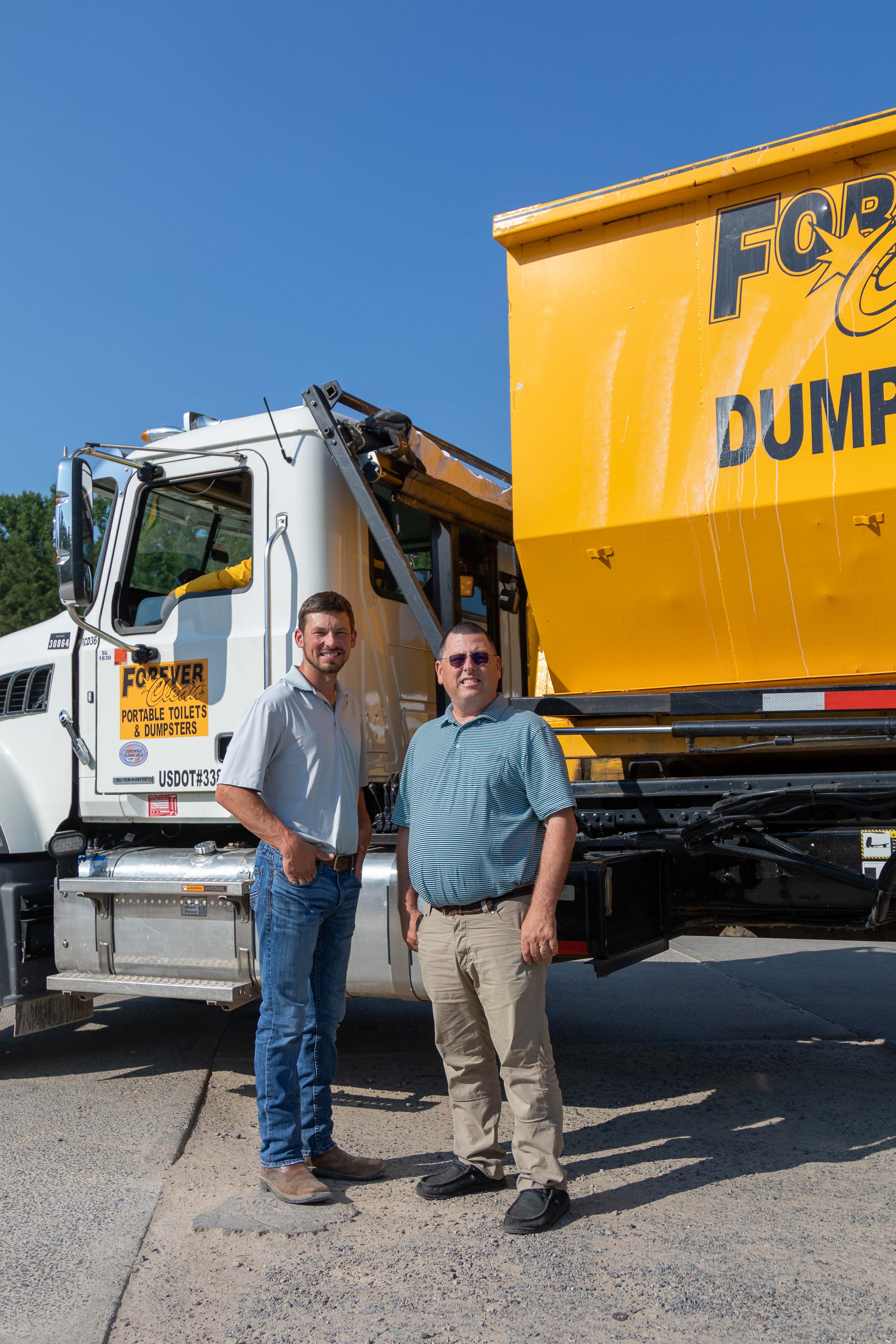 Scott and Nick Tart
Business Partners
With almost 20 years in the industry, Scott and his son Nick put the customer at the forefront. They spend time in the community to understand the needs. So, when a customer calls, they know they are calling a family with their best interests in mind and are very invested in finding a solution to whatever problems may arise.
Each day can be very different as they service everything from residential and commercial to disaster relief—any debris they take and dispose of accordingly. With the need to get into some unique or tight spaces, they have found the hooklift the best option to navigate and maneuver quickly and easily on their stops. Quickly getting in and out of a job site is critical to their business and customer service.
They Come To You
Deliveries
Business Situation
With their prior solution, Forever Clean was experiencing more downtime due to the high maintenance required. As downtime is crucial and an increased focus, they saw a need to find a new provider. When they switched to PALFINGER, downtime changed drastically; they now have a very low-maintenance hooklift, reducing the time a truck is unavailable. Another issue they ran into with their prior hooklift was the payload. With a heavier product, this reduces the load you can carry. With a lighter product, PALFINGER's HT 160, they have increased the amount they can carry, increasing the amount of work they can take on daily. This model also provides their employees with a safer application and reduced risk as they no longer deal with cables.
Additionally, Nick was surprised to see a lack of traditional grease points with the newer model. "For the newer one, there are no grease points. So, it was amazing to see when they delivered that truck that we were used to several grease points in the back that our guys were spending time greasing daily, weekly, whatever. It helps get that driver on the road quicker in the morning or less overtime in the evenings trying to grease his truck," he said.
Where the Magic Happens
The Yard
Team Solution and Growth
There was a clear need for a solution, so Scott and Nick went to their go-to dealer, TranSource. Based on Forever Clean's pain points, Eddie Simser and Matt Walsh with TranSource recommended PALFINGER. As a new PALFINGER dealer at the time, they had partnered with James Hanson, Sales Director, to create a strong partnership and iron out some of their roadblocks. Eddie mentioned, "The relationship that we've got with Forever Clean, we truly want to try to get better every single day for them, and it does take a team effort, and with PALFINGER, we've done an excellent job." Of course, new products have a learning curve on both sides. During this process, PALFINGER visited to ensure that concerns and issues were addressed and that a plan for success was in place for both the dealer and the customer.
Five years since the dual partnership began with TranSource and PALFINGER, Nick Tart is as sure as ever that they made the right choice. Regarding the warranty plan, he said, "It was very vital to us because we wanted to be sure that for us, it's a partnership just like with TranSource. PALFINGER, we see the same way. So, we wanted to have somebody in our corner that understood that and again kept our trucks moving and our wheels spinning is what we want to do. So having that security and knowing that PALFINGER was with us on that really made a huge impact."
Relationships and the same vision are crucial, and with our solid partnership as a trio, we will have a great future. The fact that Scott and Nick can pick up the phone and get the results they are looking for with TranSource and PALFINGER makes a real difference. It is the same way customers feel when they call Forever Clean; a real relationship with someone on the other end of the phone who understands their needs and will do everything they can to address them.
TranSource began in 1982 when Jim and Gail Bland purchased the Winston-Salem branch of Mack Trucks, Inc and later moved the company to Kernersville, North Carolina, operating under the name of Triad Mack Sales & Service, Inc.

In its first ten years, the company expanded into the Hickory and Raleigh, North Carolina markets and became authorized dealers for additional product lines, including Isuzu Trucks and Dorsey Trailers. The additional product offerings and increased geographic footprint led the company to change its name from Triad Mack Sales to TranSource, Inc., better to represent its true product offerings and additional markets served outside the Greensboro/Winston-Salem/High Point area, collectively, "the Triad."

TranSource continues to grow through acquisitions and opening of new facilities across North Carolina. In 1998, TranSource expanded into the Salisbury market by opening a new parts and service facility. The acquisitions of the Volvo Truck franchise in Raleigh and the Mack Truck franchise for Rocky Mount in 2002 and 2003, respectively, bolstered TranSource's growing Eastern North Carolina presence. In 2006, the company added customer support capabilities by opening a parts and service facility in Fayetteville, NC.

In 2014, TranSource added a service location in Clinton, NC; in 2016 TranSource expanded to Eastern North Carolina with a new location in St. Pauls, NC. These new locations will expand TranSource's product offerings, increase the representation of OEM dealers across the state, and reach customers in South Carolina.

—Contributed by TranSource, Inc.
With more than 40 years in the industry, TranSource has proven reliability and is a great partner both on the customer side as well as the manufacturing side. "You can buy [a] product anywhere, but I think at the end of the day, when you can pick up the phone, and you can call somebody, and you can get the results you are looking for and know that it's really a team effort," Scott Tart mentioned.
TranSource has been selling PALFINGER products for over two years, and they mentioned, "The quality, performance, and total value proposition is second to none." They were introduced to the product line at Waste Expo and were intrigued due to customer interest and demand. The relationship has continued to develop, and through on-site support from PALFINGER to fully train TranSource's teams, they have had remarkable growth and success. Olivia Kayler has also been crucial as she has been their day-to-day support to ensure they have everything they need and all questions answered. "Open and direct communications, as well as detailed planning, are vital for the success of all three companies (Forever Clean, TranSource, and PALFINGER).
Our growing relationship with Scott and Nick is a vital part of the development plans for TranSource, Inc. We value our relationship and welcome all feedback from them to help us improve every day," TranSource commented. They are dedicated to the continued growth of our relationship and partnership for the years to come.
Results
Forever Clean needed a reliable product that allowed faster pickups, lower maintenance and higher payload. With the partnership between TranSource and PALFINGER, they have found a winning combination. They are supported 100% by Eddie Simser and Matt Walsh, and they consistently ensure that their fleet is on the road and that any necessary service or maintenance is taken care of. Their team at PALFINGER is also in their corner, and we greatly value their opinions, needs and input. Scott and Nick know we are just a phone call away if they need anything.
We look forward to where this partnership grows and are excited to see what is next for Forever Clean!
Hooklifts are essential for Forever Clean, the premier solutions for all of your septic, drain cleaning, dumpster rental, and porta potty rental needs. They know they can rely on PALFINGER hooklifts to keep their deliveries on time, lessen downtime, and get access to parts when needed.
Want to find out more? Look no further!
Photos Courtesy of TranSource