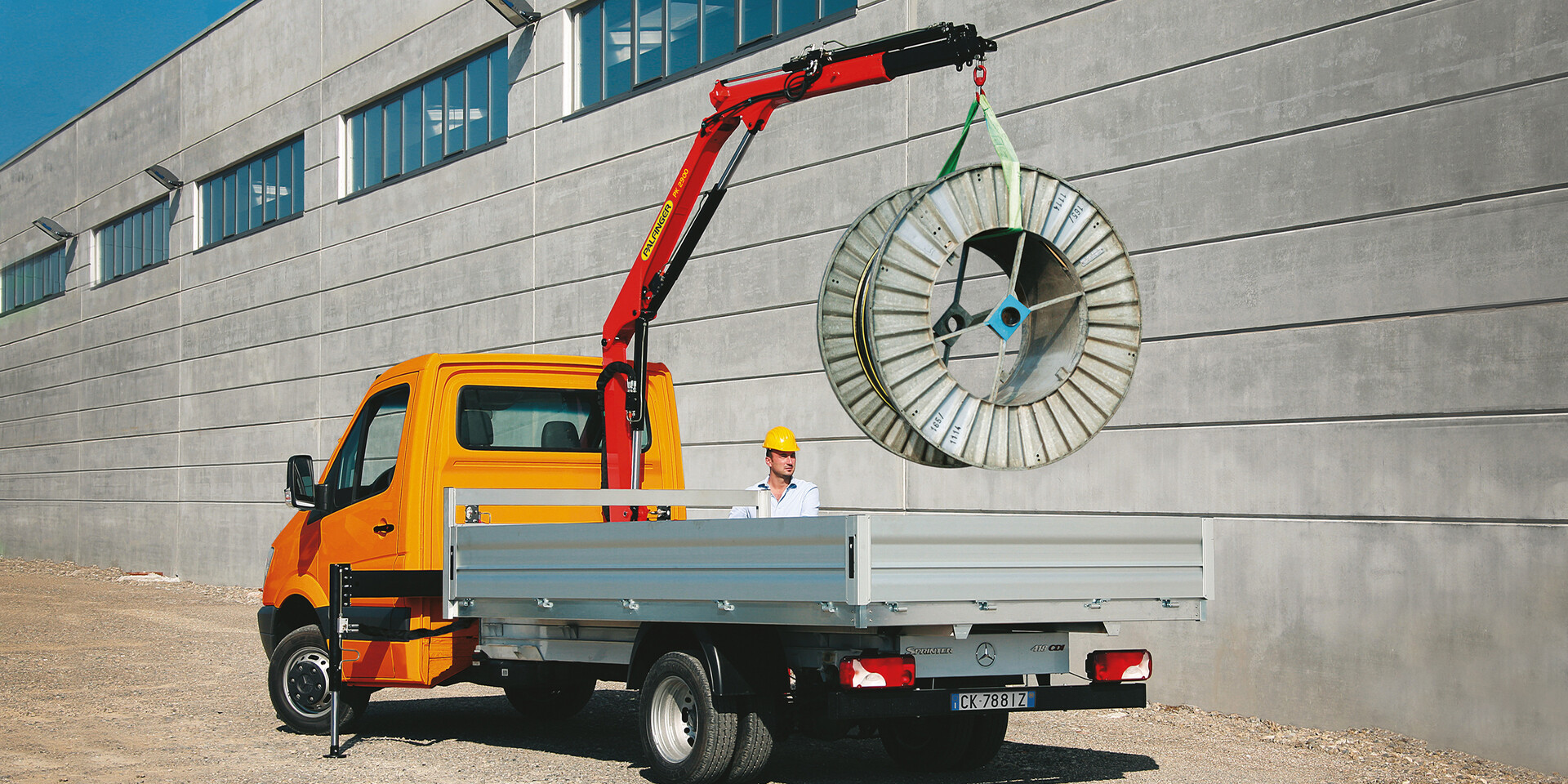 Small
PK 2900 Performance
Versatile small cranes with optimised power-to-weight ratio for lightweight commercial vehicles.
High outreach with up to four hydraulic extensions
Optimised dead weight
Small overall width for use in inner city areas
High value retention thanks to coating technology
Small
Experience the product features
KTL
PRODUCT FEATURES
The right surface treatment is the foundation for durable and long-lasting surface protection. The components pass through the priming and painting process stages fully automatically. Through this innovative technology for surface coating, PALFINGER creates a quality standard that is usually only found in the automobile industry.
HOW IT WORKS
1. The crane components are cleaned of all impurities by means of cut steel shot blasting.
2. The components are degreased, rinsed, activated and coated with zinc phosphating in the individual immersion tanks.
3. After two additional rinsing processes, the surfaces are passivated as well as rinsed with ultra-pure water.
4. The electrostatic cathodic dip painting follows by immersing the crane components completely in the paint.
5. Excess paint is washed off in two additional operations with an ultra-filtration rinse.
6. Afterwards, the paint is cured at a temperature of 115 degrees for 1.5 hours.
7. At the end, the crane components are given a water-soluble, environmentally friendly two-component finish coat of paint by a painting robot.
| | |
| --- | --- |
| Max. lifting moment | 2.5 mt |
| Max. lifting capacity | 990 kg |
| Max. hydraulic outreach | 6.4 m |
| Slewing angle | 370° |
| Slewing torque with 1 gear | 0.3 mt |
| Stabilizer spread (std) | 3.3 |
| Fitting space required (std) | 0.45 m |
| Width folded | 0.77 m |
| Max. operating pressure | 250 bar |
| Dead weight (std) | 374 kg |
Cranes shown in the leaflet are partially optional equipped and do not always correspond to the standard version.
Country-specific regulations must be observed. Dimensions may vary. Subject to technical changes, errors and translation mistakes.
| | Lifting moment | Outreach | Slewing angle | Slewing torque | Pressure | Pump capacity | Crane Weight | Crane Height | Crane Width | Installation With |
| --- | --- | --- | --- | --- | --- | --- | --- | --- | --- | --- |
| Std | 2.5 | 4.0 | 370 | 0.3 | 25.0 | 10 | 374 | 1590 | 1600 | 435 |
| A | 2.4 | 5.2 | 370 | 0.3 | 25.0 | 10 | 406 | 1590 | 1600 | 435 |
| B | 2.3 | 6.4 | 370 | 0.3 | 25.0 | 10 | 434 | 1590 | 1600 | 470 |