PK 92002 SH MAN TGS 35.520 8x4H-6 BL
PK 92002 SH
MAN TGS 35.520 8x4H-6 BL
Contract number: Paldrive 420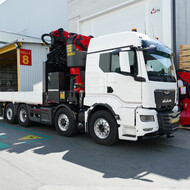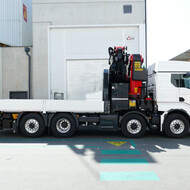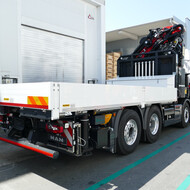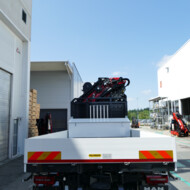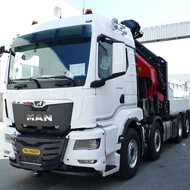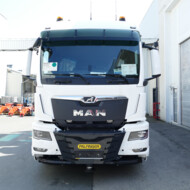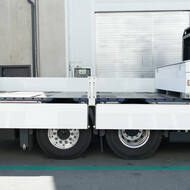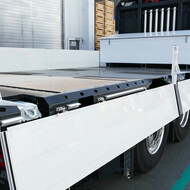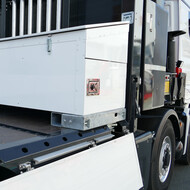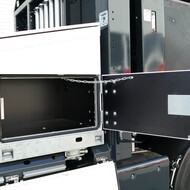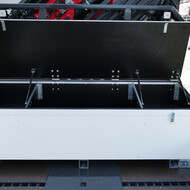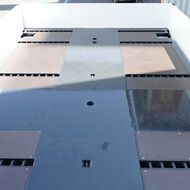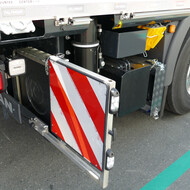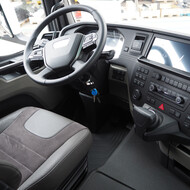 Specification
Crane: PK 92002 SH
- Hydraulic 7-fold extension
- High-speed extension system with return oil recovery
- Swivel range endless
- Hydraulic support leg extension (max. support width 8.600 mm)
- Additional hydraulic support (support width ca. 8.500 mm)
- Support legs can be swiveled hydraulically through 180 °
- Paltronic 150
- HPSC + LOAD
- Palcom P7 radio remote control/ 8 functions with linear levers
- Painting RAL3020
- Working lights on the articulated arm and on the fly-Jib
- Hose equipment for two additional devices including quick coupling (multi-faster)
- 3,5to- cable winch on the main arm (hydr. foldable)
- cable length: 90m
- Synchron control rope winch (SRC)
- 8to + 25to load hook
Accessory: PJ170E (additional knuckle arm)
- Hydraulic 6-fold extension
- Can be folded upwards hydraulically by 25 °
- Applications with additional devices possible (e.g. gripper, rotator ...)
including quick coupling (multi-faster)
Platform:
- Inner dimensions: 2.480 x 5.350 mm
- Multifunctional front wall with pole depot and gallery top for chains and belts
- Front wall: height 1.760 mm
- Platform with many lashing points + 45° platform border profile
- Side- and rearwalls: height 400 mm
- Platform floor 27 mm plywood, impregnated and sealed
- Two pair of JOST container locking devices for ISO-containers
Manually extendable to the side to approx. 3.000 mm
- inclusive removable toolbox (locked on the Container locks) for tools, lifting euipment,
rope whinch equipment etc. etc.
Chassis: MAN TGS 35.520 8x4H-6BL
- 520PS , max. 2.650Nm
- Automatic drive, MAN TipMatic 12.28 OD
- Leaf suspension on front axles, air suspension on rear axles
- Fuel tank 390l / AD-Blue tank 35l
- Tyres rear axle 315/80R22,5
- Tyres front axle 385/65R22.5
- Cabin colour: RAL9016 traffic white / chassis colour: RAL9011 graphite black
Offer information
Location details
MCC-NORTH SOLEC, 86-050 - Poland
Dealer Name
Palfinger EMEA GmbH
Dealer E-mail
sales@palfinger.com
Contract number
Paldrive 420
Product
| | |
| --- | --- |
| Manufacturer | Palfinger |
| Model | PK 92002 SH |
| Equipment no. | 1100149443 |
| | |
| --- | --- |
| Construction year | 2023 |
| Lifting moment | 85,5 mt |
| Outreach / Lifting power | 30,5 m / 1.100 kg |
| Max outreach | 30,5 m |
truck
| | |
| --- | --- |
| Truck manufacturer | MAN |
| Construction year | 2023 |
| Drivers cabine | TM |
| Wheel base | 1795 + 2980 + 1350 mm |
| Power | 520 PS |
| Emmission standard | EURO6e |
| | |
| --- | --- |
| Axes | 8x4 |
| Gross vehicle weight | 32.000 kg |
| Dead weight | 27.900 Kg |
| Payload | 4.100 Kg |
| Payload category | <6t |
| Construction | Heavy duty crane |