PAL Pro 39 Mechanics Truck Ford 2020 F-550 4x4 Super Cab
Ford
PAL Pro 39 Mechanics Truck
2020 F-550 4x4 Super Cab
Stock number: 620332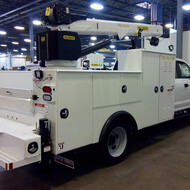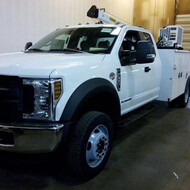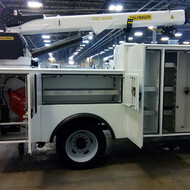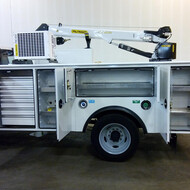 Offer information
Location details
1420 Brewster Creek Blvd, Bartlett, IL, 60103 - United States
Dealer details
Auto Truck Group | Contact: Anthony Voss
Dealer E-mail
avoss@autotruck.com
Product type
Mechanics Truck
Crane body technical details
11' Long Steel Mechanics Body with Raised Compartments.
44" Tall Compartments With 60" Tall 1st and 2nd Compartments Curbside.
A-60 Galvanneal Steel E-Coated Body.
Double Panel Aluminum Doors with Gas Shocks.
Masterlock System.
21" Workbench Bumper with Power-Out (Crane Side) Power Down Outriggers and 2" Hitch Receiver.
LED Compartment Lights and 4 Exterior LED Flood Lights.
STANDARD SHELVING PACKAGE.

LV1: Drawer Unit 5-3"/2-5"/1-7" CTECH Drawers.
LV2: 2 Adjustable Aluminum Divider Trays.
LH: 1 Adjustable Aluminum Divider Tray.
LR: 2 Adjustable Aluminum Divider Trays.
RV1: Oxy/Acetylene Tank Holders for 2 Bottles and Divider Kit with 3 Adjustable Aluminum Divider Trays.
RV2: 2 Adjustable Aluminum Divider Trays.
RH: 1 Adjustable Aluminum Divider Tray.

LED Rear Stop/Tail/Turn Lights.
Painted Ford White on Exterior.
Line-X Ultra Finish Inside Compartments.
Oil Reservoir – 30 Gallon.
Service crane technical details
PALFINGER PSC 6025H Hydraulic Telescopic Service Crane.
6,000 lb Winch Rating and 38,500 ft/lb Lifting Moment.
25' Hydraulic Boom Reach.
410 Deg Rotation.
Wireless Fully Proportional Radio Remote Controls.
Winch Damage Prevention System (Electronics-Free Boom).
Compressor technical details
PRC 45V Hydraulic Rotary Screw Air Compressor.
45CFM @ 150 PSI.
1/2" X 50' Air Hose Reel and FLR in Crane Compartment.
6 Gallon Air Receiver Under Body.
Chassis details
2020 Ford F-550 SuperCab 4x4 Diesel.
19,500 lb GVWR.
Cummins 6.7L Diesel Engine.
10-Speed Automatic Transmission.
VIN# 1FD0X5HT1LEC55525.