PAL Pro 20 Mechanics Truck Ford 2019 F-350 4x4 Regular Cab
Ford
PAL Pro 20 Mechanics Truck
2019 F-350 4x4 Regular Cab
Stock number: KEE07333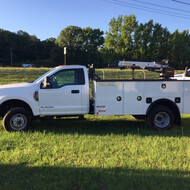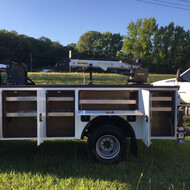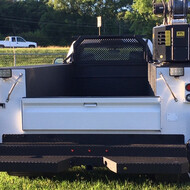 Offer information
Location details
1420 Hildegarde Drive, Birmingham, AL, 35215 - United States
Dealer details
Palfinger USA | Contact: Rodney Allen
Dealer E-mail
r.allen@palfinger.com
Product type
Mechanics Truck
PAL Pro 20-11 Mechanics Truck
11' long heavy duty galvanealed steel body.
Master Locking System.
Gas shock door retainers on all vertically hinged doors.
(8) Recessed cargo tie down rings.
(2) Grab handles on rear of body.
14" double panel slam type tailgate.
17IN bumper.
Electronic back-up alarm.
1/4" top plate bumper with integrated 2" receiver tube hitch and 7 way trailer plug.
40"sidepack height x 20" deep.
Headache Rack.
Sealed automotive style wiring harness with easy access power distribution panel.
FMVSS 108 LED light and reflector kit.
LED Strip lighting in all compartments.
(2) Work lights on rear of body with wiring harness for up to an additional (4) work lights.
Entire body E-coat primered.
Compartment interiors furnished in prime with inside of doors painted to match exterior color.
Understructure and bottom of compartments undercoated.
Reinforce spring pack on rear axle to level truck.
Line-X protective coating on compartment backs, tops, cargo floor, inside tailgate and workbench bumper.
Welder mounting bracket on streetside rear compartment top.
ICC Safety kit located in cab.
Installed and painted white to match cab.
Service crane technical details
PALFINGER PSC 3216 Electric Telescopic Crane.
12,500 ft/lb Rating.
Continuous rotation.
Power extension to 11.4' and manual extension to 16'.
4,000 lb. Maximum lift capacity (double line).
Non-integrated load-holding valves on all cylinders.
Electronic overload protection system.
Radio remote control with proportional controls.
Crane hook and snatch block.
Hexagonal boom.
Boom support.
Rear manual out (crane side only)/Crank down outriggers.
Integrated two-block damage prevention feature.
Winch cable speed: 18 feet per minute.
1/4" x 80' Galvanized aircraft cable.
Deep cycle battery with master cut-off installed in crane compartment.
Chassis details
2019 Ford F-350 4x4 Regular Cab.
6.7L V8 Turbo Diesel.
6 Speed Automatic.
VIN: 1FDRF3HT1KEE07333.